Motorcycle Accident Lawyers in Miami Winning Financial Compensation for FL Accident Victims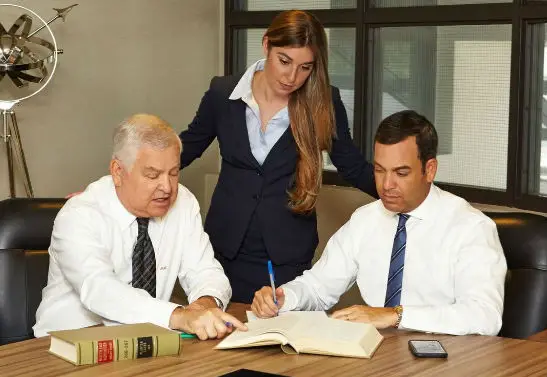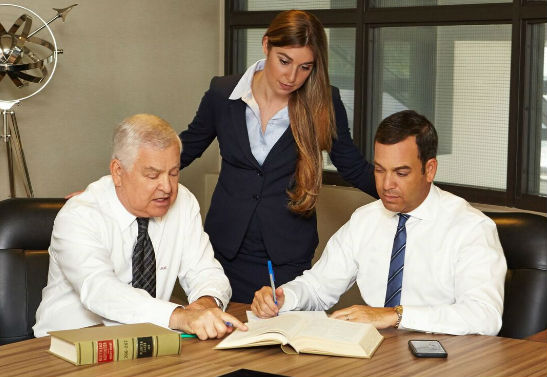 The top personal injury attorneys in Miami-Dade County discuss how you can receive financial compensation for your motorcycle accident injuries with the help of a good law firm.

Each attorney in our personal injury law firm offers honest legal advice and dedication to your accident claim.

Clients at Lipcon & Lipcon, P.A. work directly with aggressive injury lawyers on their motorcycle accident cases. You can trust that the injury lawyers at one of the best Miami law firms will give your case the attention it deserves.

Our award-winning law firm has earned 5/5 stars – based on 24 reviews. See our top ratings in Martindale-Hubbell's extensive lawyer directory.
Motorcycle accidents have the potential to cause great harm to the motorcyclist. These types of accidents may not occur as frequently as typical passenger car collisions but tend to have a higher rate of traffic fatalities and severe injuries. A motorcyclist can be in serious jeopardy if they are ever involved in a motorcycle accident. The fallout of these types of accidents can be long-lasting and can cause major personal and financial difficulties in the long run. Many motorcyclists that are injured in a motorcycle crash are unable to work immediately following their accident. This can lead to lost wages and can end up taking a damaging toll on your finances. If you or a loved one have had the misfortune of being injured in a motorcycle crash, you should take the action and precautions necessary to ensure a speedy recovery and a stable financial future.
Motorcyclists are more exposed to the hazards of the road by the design of their bikes. Motorcycles offer less protection to their motorists than a typical passenger vehicle does. This makes collisions with other motorists, motorcyclists, road hazards, or the road itself even more deadly when riding a motorcycle.
As a motorcycle rider injured in a motorcycle crash, the expenses can add up quickly. Not only are there repairs to the bike that need to be considered or even the replacement of the motorcycle, but the injuries from these types of accidents are often severe. With so much time potentially being taken on recovering and rehabilitating your injuries, it is important to have a lifeline by your side helping you along the way.
Medical bills for surgeries, therapy, and continuing treatment can become expensive. When you find yourself facing staggering bills from your bike accident, then you need to consult with a Florida injury attorney to discuss your case. A qualified motorcycle accident lawyer will be able to determine the liable party in your situation and help you pursue financial compensation for the harm that you've suffered. Do not hesitate to fight for the compensation you deserve by filing a claim today. However, motorcycle accident lawsuits can be tricky to navigate on your own. With so many moving parts, having quality legal guidance from start to finish can be critical to the outcome of your claim. Be sure to reach out to an experienced motorcycle accident lawyer as soon as possible to help you or a loved one with your potential case.
WHAT ARE FLORIDA'S MOTORCYCLE LAWS?
The state of Florida requires certain things for motorcyclists on the road. The laws in place are intended to protect all motorists, similar to traffic laws. Obeying these Florida motorcycle laws can help with the prevention of accidents and significantly reduce injuries sustained in a collision.
A motorcyclist in Florida should be aware of these traffic laws. Some cities have different laws pertaining to motorcyclists, so you should do some research on your own city's statutes that you ride your motorcycle in.
Here are some of Florida's laws pertaining to motorcycle use:
Motorcyclists in the state of Florida must have a proper license to operate their bikes. This is a regular Class E license. The motorist must also complete a Basic Riders Course. Proof of motorcycle endorsement or Florida Riders Program completion is also required.

Florida does not require a motorcyclist and passengers of motorcycles to wear a helmet under certain conditions. The person must be over the age of 21 and maintain an insurance policy with a minimum of $10,000 in medical coverage. If this criterion is not met, then the motorcyclist must use a helmet that passes federal standards. Eye protection is not required of Florida motorcyclists.

It's crucial for motorcyclists to use their headlights during all hours of the day. Courts can determine a violation of the headlight law to be a contributing factor in a bike accident. This Florida law indicates that motorcyclists use their daytime running lights or headlights at all times.

Motorcycle operators are required to follow all roadway laws and rules just as any other motorist would be. In Florida, people riding motorcycles are allowed to ride two abreast, but not lane split.
Following these laws can help a motorcyclist in the event of a motorcycle accident. If all laws are followed properly, not only is the chance of a motorcycle accident being reduced, but the motorcyclist is less likely to be considered liable for any injuries or damage incurred. Having a trusted attorney on your side can help you maximize the amount of compensation you end up getting for your injuries. Injury attorneys in Miami like the ones from our law firm are ready to provide you with the legal representation and the personalized service you need to not only overcome your devastating injuries but bounce back like never before. With so many attorneys claiming to be able to help you, it is important you pick the right attorney for your case. With a reputation of dedicated and unwavering service and a track record of getting clients the results they need, our team of injury attorneys can make a major difference for your injury claim.
WHAT DAMAGES CAN BE COLLECTED AFTER A MOTORCYCLE ACCIDENT?
Motorcycle wrecks can cause a variety of injuries and expenses. Most courts will allow the injured party to claim both non-economic and economic losses. A Miami motorcycle injury lawyer can help you determine what types of damages can be collected in the aftermath of your incident. The attorney will also help you determine the estimated amount of these damages and what should be pursued from the liable party.
Economic damages are measured as a financial loss to the injured person. Medical expenses, lost income and wages, as well as property damage all fall under this category. Medical expenses include all health care costs associated with the accident. This could be rehabilitation, surgery, hospital fees, ambulance costs, at-home medical care, medication, and any other medical expenses.
Lost income can include the wages that were missed immediately following the accident and the future loss of wages from the inability or reduced ability to work due to the incident. Property damage in a motorcycle wreck will cover the replacement of the bike or repairs. This depends on the severity of the damage to the motorcycle. It can also include the costs of renting a vehicle during the time the motorcycle is unavailable.
Non-economic losses can be more difficult to measure than economic losses. These are the personal losses that arise from an accident. These include pain and suffering. Pain and suffering can be difficult to prove without the proper legal help. Often, the civil court system will require expert witnesses to testify to the victim's pain and suffering. Florida does not put a cap on the number of funds that can be awarded in civil claims for non-economic damages, meaning there is no fixed amount of compensation you may be entitled to for your injuries. On top of pain and suffering, you may be able to file a wrongful death claim if your loved one died as a result of their motorcycle injury. In a wrongful death case, you may be awarded similar compensation and more. Contact our team of personal injury lawyers to determine whether or not you are eligible for a wrongful death claim following your loved one's motorcycle accident.
Punitive damages may also be awarded when the actions of the liable party are considered to be criminal or grossly negligent. Punitive damages are intended to act as a sort of punishment to the defendant and to discourage others from acting in the same way.
The most effective way of getting the compensation you or a loved one deserves for a motorcycle accident claim is by consulting with a motorcycle accident lawyer about the details of your case. Because the nature of motorcycle accidents vary from case to case and the damage done to individual motorcycle accident victims may vary, having a preliminary meeting with motorcycle accident attorneys can be an effective way to not only gauge the validity of your case but also see just how much compensation you may end up being eligible for. Motorcycle fatalities are prevalent following an accident like yours. Luckily, you are still alive but you may need all the help you can get. Even if you had the proper gear on, your accident may have left you suffering from serious injuries that require constant medical attention. While motorcycle crashes are burdensome for many, you can negate the impact your motorcycle accident has on you with the help of a motorcycle accident lawyer.
Who Is At Fault In Most Motorcycle Accidents?
Motorcycle accidents can happen at any time and due to many reasons. While some motorcycle accidents can be a motorcyclist's fault, many motorcycle accidents are caused due to negligence from drivers of motor vehicles on the open road. Reckless drivers and distracted drivers are some of the most at-fault drivers in motorcycle accident cases. Because a motorcycle is more slender in profile than other motor vehicles, a reckless driver can easily miss seeing one while driving. While many drivers are conscious about motorcyclists while driving, not every driver can do enough to avoid devastating motorcycle accidents. Although insurance carriers may be responsible for paying out any compensation you are owed, negligence from drivers is one of the primary catalysts for causing motorcycle accidents. With the help of a motorcycle accident attorney, proving negligence can be a simpler, less painful process. Proving negligence is key when it comes to an injury claim like yours. Not all lawyers have the experience required to handle injury claims like the one you intend on filing. A seasoned attorney like the injury attorneys from our law firm can ensure you get the compensation you deserve for your injuries.
What Is The Average Payout For A Motorcycle Accident?
The amount of compensation you can get for your personal injury claim may be dependent on how successfully your personal injury attorney can prove your damages. Because of how many factors go into motorcycle accident cases, there isn't an exact average payout that you may be eligible to receive. One of the major factors that can ultimately determine how much compensation you can receive is the insurance company you are making a claim against. Insurance companies are known for stingy tactics that either results in delays for personal injury claims like yours or result in lowball settlement offers. Dealing with unruly insurance companies is one of the primary duties of an experienced personal injury attorney like the ones from our law firm. We can hold the insurance company responsible for offering you a settlement accountable for the negligence of the driver that hit you. Going through this process are your own may end up hurting your claim in the end. With the help of our team of trusted personal injury lawyers from Miami, you can get the compensation you deserve and get back on your feet in no time.
Should I Get A Lawyer For A Motorcycle Accident?
When you or a motorcyclist you know has been involved in a detrimental motorcycle accident in Florida, you could be entitled to financial compensation. The award-winning motorcycle attorneys at Lipcon & Lipcon, P.A., understand the unique circumstances of bike accident claims and are ready to help you navigate the legal system. You need honest, aggressive representation to help you get the damages that you deserve in your case.
Our motorcycle accident lawyers are dedicated to helping you win your claim. You will work personally with the lawyer on your case when you hire our law firm to represent you. As one of the top Miami-Dade County law firms, we know that legal fees often stop people from pursuing the compensation they deserve.
This is why our team of injury lawyers offers our legal services to you with the promise that you won't pay a dime unless we win your case. Contact our law office today for your free consultation. We're ready to fight for your rights!