Truck Accident Law Firm in Miami Working With Clients for Fair Financial Compensation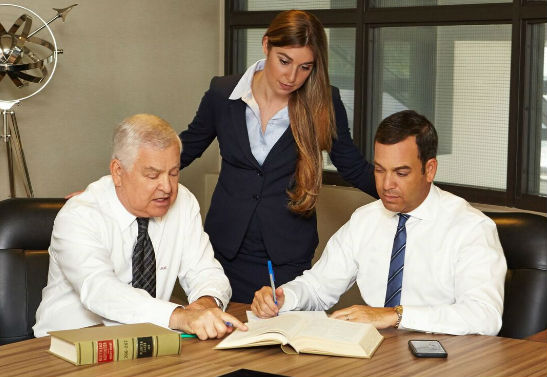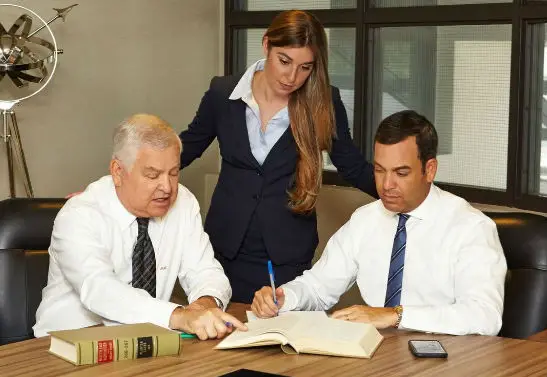 The top law firms in Miami-Dade County, FL can help victims of serious truck accidents recover damages such as medical expenses, therapy bills, and more. You need an honest attorney that will help you calculate your damages and pursue compensation.
Each truck accident attorney on our legal team works personally with clients to best represent their trucking accident claim. Our personal injury lawyers at Lipcon & Lipcon, P.A. law firm offer honest legal advice during the time following your accident when you need it the most.
Our award-winning truck accident lawyers are ready to fight for your rights to help you receive maximum compensation for your injuries using experience from years of aggressive representation in truck accident cases.
The trucking industry plays an important role in the Florida economy. These large trucks are responsible for transporting the goods that support our way of life and supply jobs for many across the country. There is no denying the major benefits the trucking industry plays in Florida's economy and the nation's economy as a whole but sometimes when trucking regulations aren't followed or negligence by truck drivers is displayed, things can take a turn for the worst very quickly.
Large semi-trucks in the trucking industry, such as massive commercial trucks, can cause serious damage when involved in an accident with other motorists. Because of their massive frame, most other motor vehicles such as cars and motorcycles do not stand a chance when being involved in motor vehicle accidents.
It's not uncommon for the injuries sustained in these kinds of collisions to be life-threatening or even cause the death of the victim. The sheer size of a semi-truck can severely damage smaller motor vehicles or motorcycles in a truck accident. The injuries sustained in truck accidents can have a lasting impact on your physical health, your emotional and mental health, and even your financial health. If you or a loved one has been involved in a truck accident, you should consider filing a truck accident lawsuit as soon as possible. Motor vehicle crashes involving trucks can be catastrophic to your life if you do not take the proper legal action.
As a truck accident victim, you should do whatever you can to restore a sense of normalcy in your life and protect the integrity of your family. A tractor-trailer accident can send your life spiraling out of control without the right legal guidance next to you every step of the way. Our personal injury lawyers like the ones from our injury law firm can optimize your chances of receiving the most compensation possible for your injuries and other losses. Trucking companies often have an insurance company represent them when claims are filed against the trucking companies. Make sure you are well-equipped to fight back against insurance companies that give you a hard time when trying to get the compensation you deserve. A truck accident lawyer with experience handling tractor-trailer accidents can ensure you get treated fairly from the beginning of your case to the very end. Accidents involving trucks tend to wreak havoc on people and families when the case is severe enough. If you or a loved one has been injured in a truck accident, give us a call today.
WHAT ARE THE TYPES OF INJURIES CAUSED BY SERIOUS TRUCK ACCIDENTS?
Victims of serious trucking accidents often suffer from a variety of injuries. These injuries are painful and expensive, often causing problems later on in life. Regular motor vehicle accidents have the potential to cause severe damage, but the size and weight of semi-trailer trucks and tractor-trailers often cause much more damage than typical car accidents.
The injuries are typically severe and can include but are not limited to the following:
Spinal cord damage

Brain trauma and injury

Head trauma

Crushed, shattered, or broken bones

Amputation of limbs

Internal bleeding and hemorrhaging

Internal organ damage

Severe burns

Nerve damage

Paralysis

Death
These are just a few examples of the types of injuries that commercial truck accidents can cause. This list is not an exclusive list of the resulting injuries from commercial truck accidents, but it does mention a few of the most common ones. If you or someone that you love has been harmed in a semi-truck accident, then you know how traumatic and life-altering these injuries can be.
Some of these injuries can impact the victim throughout the entirety of their life. Consider how impactful a spinal cord injury can be to your life. Depending on the extent of your spinal cord injury, you may never enjoy the leisurely activities you used to enjoy prior to your truck crash such as swimming, playing sports, playing with your children, and more. Not to mention, you may never be able to work in your field of work again. All of this can not only take a tremendous toll on your finances but it can take a heavy toll on your heart, as well. Even if the injuries from your crash do not appear to be significant at first, your condition may worsen over time. It is better to protect yourself from future difficulties than regret that you did not take the proper action when you had the chance. That is why it is crucial that you contact an experienced truck accident attorney immediately following the accident, so you can hold the responsible party liable for your damages. Truck cases like yours can end up being successful if you seek experienced truck lawyers to help you with your trucking case. No matter if a truck driver committed a driver error or if the trucking company failed to properly maintain the truck that the truck driver was operating at the time of your crash, you may be eligible for compensation for the injuries and losses you have suffered. While the causes of truck accidents vary from crash to crash, victims like yourself have a right to seek damages for your injuries. Reach out to our law firm to speak with our injury lawyers today.
HOW DOES PERSONAL INJURY RECOVERY WORK IN FLORIDA?
When pursuing a trucking accident lawsuit, it's important to keep in mind that Florida is a comparative negligence state. This simply means that the liable party is only responsible for the percentage of damages that they caused.
For example, if it has been determined that the truck driver was responsible for 75% of the accident and the victim was responsible for 25% of the accident, then they can only recover a maximum of 75% of their damages.
If the driver of the truck was entirely responsible for the serious trucking accident, then the victim could potentially recover 100% of their damages. In many truck accident cases, the victim is not at fault and is able to recover the full amount of their damages.
Proving fault and negligence in a truck accident case can be difficult without the right injury lawyers helping you along the way. Substantial evidence may be needed in order to prove negligence, and ultimately, the damages you are claiming in your case. While each trucker is different, many trucking companies demand extensive hours from each truck driver they have employed. Truck drivers have limits on the number of hours they can consecutively drive. However, some trucking companies overlook these regulations put into place in order to meet tight deadlines. This can lead to truck drivers being overworked and exhausted. This can directly lead to automobile accidents involving trucks. Evidence such as logs meant to track the hours a truck driver has driven can go a long way towards proving fault in a truck accident case. On top of these logs, many trucks contain a black box that records video of what is happening on the road. This black box data can help your case.
However, leveraging this evidence to benefit your claim may involve the help of injury lawyers with experience in handling truck accidents. With constantly evolving technology, it is also possible that you had a dashboard camera that picked up the moments leading up to your accident. This can be significant evidence when it comes to proving the amount of fault for each party. Other evidence such as the police report of your auto accident, testimony from drivers that witnessed your crash, medical bills, pay stubs, and other documents that prove the damages you have sustained can all go a long way towards helping you get the compensation you deserve. However, navigating through all that yourself or not having the right lawyer for your case can end up costing you dearly in the end. Let an injury lawyer with experience handling truck accidents give you the upper hand you need to make the most out of your injury claim.
CAN A TEAM OF TRUCK ACCIDENT LAWYERS HELP VICTIMS RECOVER DAMAGES FOR THE LOSSES I'VE SUSTAINED?
You may not know what damages you can recover in a truck accident case. An experienced truck attorney can help you determine which damages you are eligible to receive in your claim. Serious truck accidents may allow the victims to file a claim for the following types of damage:
Medical bills and expenses

Pain and suffering

Lost income and wages

Loss of future income and earnings

Expenses for rehabilitation and therapy

Loss of consortium
Truck drivers that operate their truck negligently and cause truck accidents should be held accountable for their reckless behavior. It can difficult to determine the full amount of damages that will result in the future from truck accidents. This is the reason that is so important to work with an attorney that has experience calculating these types of damages. You may be doing yourself a disservice by not working with the proper truck accident lawyer on your case. You do not want to underestimate the cost of future expenses from your accident. Trucks can cause serious property damage and physical damage. Protect yourself and your family's future by reaching out to injury lawyers that have experience in dealing with accidents like yours. If you or a loved one were involved in a truck accident, a skilled Miami truck accident attorney can help you accurately estimate the damages in your claim and push for fair compensation from the defendant.
HOW ATTORNEYS CAN HELP WITH TRUCK ACCIDENT LAWSUITS?
Truck attorneys can help clients file their claims and pursue financial compensation from the liable party. One of the most important things that a lawyer can do for their client in a truck accident lawsuit is establishing liability.
In a Florida truck accident, there can be several parties liable for damages. The potential liable parties include the truck driver, the trucking company, and the manufacturer of the truck or auto parts. Other third parties can be involved as well. In most cases, insurance companies represent the trucking company and their truck drivers. A truck injury attorney can hold negligent truck drivers accountable for their actions by pursuing damages against the insurance companies representing the trucking company involved in your case. Negotiating a fair settlement with the insurance company can be a tall task without the right accident lawyer by your side. Leveraging evidence, specific accident and injury laws, and relentlessly fighting for your rights to fair compensation can ensure you get the settlement you deserve for your case.
What is the Most Compensation I Can Receive For a Truck Accident Injury Claim?
Maximizing the amount of financial compensation you can get from an accident injury claim can be dependent on various factors. One of the most important factors is how have your injuries affected your everyday life? While you may know that you can claim damages like medical expenses, just how many medical expenses you racked up, and how costly those medical bills were, can ultimately dictate how much compensation you receive for that particular damage. The same can apply for other damages such as lost wages. You may have lost income and lost wages, but how much? Providing documentation such as pay stubs or correspondence between you and your employer can help provide you with the evidence needed to prove your damages effectively.
The simple answer is, the more damages you have incurred and the lower your percentage of fault that has been determined for your accident, the more financial compensation you may be able to receive. However, orchestrating all the evidence in a way that is beneficial for you can be a tough task to handle for anyone, even other injury lawyers. That is why it is integral to the success of your potential claim that you contact a tried and tested injury lawyer to help you with your claim. From the very beginning to the very end, an injury lawyer can provide you with the legal insight you need to make sound decisions going forward. At every turn of an injury claim, there can be setbacks that can be difficult to deal with without the proper legal counsel. Our law firm and our team of injury lawyers have the experience to handle cases just like yours. Contact us today to see how we can help you get the most out of your claim.
Can I Sue For Being Hit By A Semi-Truck?
You have a right to file a lawsuit after being hit by a truck on the open road. If you have no idea where to begin or how to go about getting a lawsuit started, our law firm can provide you with a free, no-obligation consultation to go over every single aspect of your potential claim.
Truck accidents can be incredibly serious. They cause severe injuries that can last a lifetime. The loss of future wages, medical bills, and therapy costs can all add up. You need to act quickly when dealing with a truck accident to receive fair compensation for your injuries. There is no reason to delay receiving compensation.
Contact the truck accident attorneys at Lipcon & Lipcon, P.A. Our team of lawyers has several years of experience assisting victims of serious truck accidents. They know how to accurately calculate your damages, prove the fault of the liable party, and pursue the maximum amount of compensation for your case.
When you work with a personal injury attorney from Lipcon & Lipcon, P.A. you'll be working directly with a lawyer on your case. You'll be treated like family, not a case number.
The lawyers of our firm understand how devastating a truck accident can be for your family and they strive to help you recover the rightful damages that you are owed. Call the toll-free number (305) 670-6144 or fill out the simple form on the law firm's website to have an attorney contact you for your free consultation. We don't collect a dime unless we win your case. You can trust us to fight for your rights in court just like we would our own family!